Bee Removal Services
We provide two main bee removal services to meet the needs of our customers. They are live bee removal and bee extermination.
Live Bee Removal and Bee Relocation Services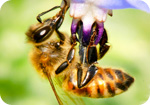 IF YOU WANT US TO SAVE YOUR BEES, PLEASE CALL AND INFORM OUR SERVICE REPRESENTATIVE THAT YOU WANT "LIVE REMOVAL." ALSO, TELL OUR ON-SITE TECHNICIAN YOU WANT "LIVE REMOVAL." When possible, we will save the bees and move them to our bee yard or release them to a safe desert location. Honey bees are great pollinators and should be saved whenever possible. They are needed to grow the food we eat. Just like you, we want to save the bees.
Also, some customers have chemical sensitivities. IF YOU DO NOT WANT PESTICIDE USED ON YOUR PROPERTY, PLEASE INFORM OUR SERVICE REPRESENTATIVE AND OUR ON-SITE TECHNICIAN.
Bee swarms can usually be saved if they are mostly or totally exposed on a branch or other outdoor surface. For basic ground-level work, our cost for live bee removal is the same as our extermination fee. Please call us for a quote. This is a great value, since live bee removal requires more technical experience, labor, fuel, and equipment. Live bee removal must be performed only by persons with expert knowledge of bees and specialized equipment.
Live bee removal is usually not possible after the bees have entered a hollow wall, attic, or similar location. Also, when the site setting or the aggressiveness of the bees could result in a safety hazard to people or animals, live removal is not an option. To protect the safety of our customers, their pets, and the public, we reserve the right to make the final decision whether to perform bee rescue or extermination.
Extermination Services
Our first duty is the safety of our customers, their neighbors, and all pets and animals in the surrounding area. Because almost all wild honey bees in Arizona are Africanized, we must assume your bees are Africanized and act to prevent bee sting incidents. In many instances, bee extermination is necessary to prevent bee sting incidents. Unfortunately, extermination is generally necessary to maintain safety if the bees are inside a wall or some other void space.
We provide bee extermination when the bees are nested in locations where they cannot be rescued and relocated. These locations include hollow walls, attics, block fences, columns or pillars, etc. Attempting to cut open and do live removals in these locations may result in bees stinging people and animals. Therefore, in these locations, extermination is the smartest choice.
When bees are nesting within wall voids of homes or other buildings, our highly trained technicians will begin by evaluating the exact location of the bee nest. This may require drilling one or more small holes.
Once we have confirmed the exact location of the bee nest, we will spray specially-formulated insecticide into the nest location to exterminate the bees. Occasionally, when a hive is well established, it is not possible to exterminate all bees in the colony unless the area is cut open to allow proper delivery of the insecticide.