Africanized Bees
Africanized bees are honey bees and have been common in Phoenix and surrounding cities since the late 1990's. Africanized bees and European bees are nearly identical in appearance.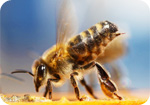 Africanized bees are known to vigorously defend their hive. They do this by stinging in much larger numbers than European bees. Bee stings are a serious health and safety threat to people and animals. Allergic or sting-sensitive people may have severe health problems from just one sting; however, most people can withstand many stings.
Based on the nearly identical appearance of Africanized bees and European bees, and the danger of bee stings, all honey-bee swarms and hives should be treated as Africanized bees. We recommend bee extermination or live bee removal before the bees become a problem.