Africanized Bees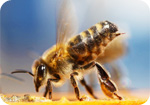 Africanized bees are honey bees and have been common in Phoenix and surrounding cities since the late 1990's. Africanized bees and European bees are nearly identical in appearance.
Why Are Africanized Bees So Dangerous?
Africanized bees are known to vigorously defend their hive. They do this by stinging in much larger numbers than European bees, although Africanized killer bee venom is not any more dangerous than venom found in your average European honey bee.  However, once agitated, Africanized bees have been known to pursue people for over a quarter mile. Bee stings are a serious health and safety threat to people and animals. Allergic or sting-sensitive people may have severe health problems from just one sting; however, most people can withstand many stings.
How to Tell If You Have Africanized Bees
Identifying Africanized bees is difficult to do because of their similarity in physical appearance to European honey bees. However, in Phoenix and the surrounding area, virtually all bees are Africanized bees.
Where They Choose to Establish a Hive
In general, European honey bees tend to nest in dry, above ground hidden locations or enclosed spaces. They rarely establish a hive in an exposed area.
Africanized bees will often establish a hive in places that European honey bees won't. For example, if you see an underground cavity busy with bees, it's most likely an Africanized bee hive. Some common places to find an Africanized bee hive are water meters, empty containers, abandoned vehicles, lumber piles and outdoor structures such as sheds. Africanized bee hives can also be seen hanging from an exposed tree branch.
How to Get Rid of Africanized Bees
Based on the nearly identical appearance of Africanized bees and European bees, and the danger of bee stings, all honey-bee swarms and hives should be treated as Africanized bees. We recommend hiring a professional bee extermination or live bee removal company before these aggressive bees become a more serious problem.
If you live in Phoenix or the surrounding area and need to get rid of Africanized bees in or around your home or business, contact the Beekeeper Total Bee Control today.  Our experienced bee removal technicians can safely and successfully remove and/or exterminate Africanized bees from your Phoenix area home or business.